Pumped liquid
fuel oils, lube oils, hydraulic oils, cutting oils, coolant oils, cooling oils
Pump using Japan's advanced technology design and produce,its outstanding characteristic is high efficiency and energy saving.
Compared with ordinary gear pump, the amount of liquid transport, less energy consumption. ordinary gear pump capacity is 58m3/h,pressure is 2.8kg, use 18.5kw motor. But YHCB oil pump capacity 60m3/h,pressure 6kg, use 11kw motor.
pumpmainly suitable for transferring all kinds of liquids with viscosity 5~1500cst, temperature below 100℃,not contain solid particles and non~corrosive. Such as petrol , Kerosene, diesel oil and mechanical lubricating oil. It is a kind of high efficiency and energy saving special gear pump. It has big capacity, high pressure,small volume,low noise,good self-priming performance, convenient to install and repair. It is also the ideal choice for oil tanker refitting industry and petroleum sector. This product refer to JB/6434-92 standard.
Application:
1. It converys various fluidities with the viscosity 5 to 1500 c. S. T and without the solid particles and non corrosive. For example, gasolene, kerosene and diesel fuel and mechanical lubricator.
2. It is the premium choice for the tank truck and petroleum corporations.
3. When using different materials, it can pump acid, alkali, benzene, alcohols, ketones, esters, chemical. Model incication
Performance data: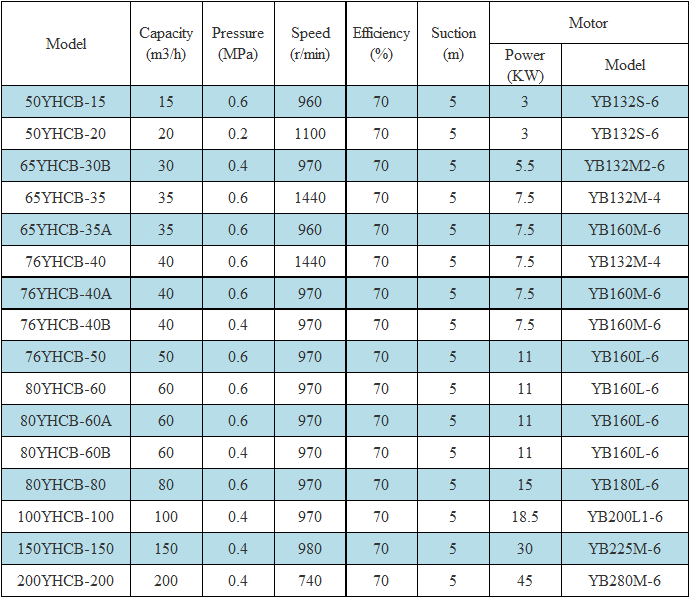 Working Principle
Driving gear (outside rotor) with internal tooth drives the internal rotor and turns in same direction in the full closed pump body. The inlet is from the outlet. When it turns, negative pressure formed at the suction port, the liquid inlet and being take to the outlet by rotor, then the liquid is impelled from the discharge port and the gears mesh. The transportation of liquid finished.
Structure Feature
As figure, the pumps are mainly composed of internal rotor, outside rotor, shaft, pump casing, front cover, seal, bearing etc.
The pump' seal adopts packing seal or mechanical seal. When the delivered medium is high temperature, high viscosity or strong corrosion, packing seal should be adopted.
When the delivered medium is easy crystal linic, we can design the heat preservation jacket in pump casing and front cover in order to melt the medium with steam when working. The pump can be also fitted with the safety valve.
The pump set is composed of the pump, motor and baseplate.
The driving way is belt wheel driving or coupling driving.