YuanDong Twin Screw Pumps are rotating positive dis-placement pumps; the gearwheels and roller bearings are located externally without contact to the process liquid. More than 80 models are available with various materials, sizes and designs for application-optimized solutions

Pumps cover a wide range of performances in pressure, flow, temperature and viscosity of the conveyed products, i.e. thin liquids such as petrol, hydrocarbons, seawater, liquids with high viscosity such as bitumen, tar, glue, molasses, and aggressive media such as acids and bases as well as multiphase mixtures.
Pumped liquid:
lube oils, hydraulic oils, cutting oils, coolant oils, cooling oils, waxes, tar oils,Light oil, LPG, crude oil, heavy oil, bitumen
Performance range:
Handling various medium without solid.
Viscosity: 1-1500mm2/s, the viscosity can reach up to 3x106mm2/s when reduced the speed.
Pressure range:4.0MPa
Capacity range:1-2000m3/h
Temperature range: -15℃-280℃
Customized Reliability
:
With the benefit of more than 20 years proven experience, YuanDong offers customized performance solutions for every operation. In-house design, production and 100 % workshop testing guarantee the high performance techno-logy – essential for all addressed industries.Design & Performance
YuanDong Twin Screw Pumps are highly refined versions of the positive displacement principle, employing paten-ted machining processes for the screw manufacture. Per-formance is a function of screw diameter, pitch and speed. In addition, there are special screw geometries available to give further efficiency savings of up to 25 %.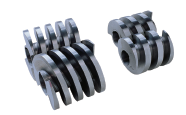 Industries & Applications
Oil and Gas

YuanDong Twin Screw Pumps are ideal for pumping mixtures of crude oil, gas, water and solids. They can be used onshore and offshore. Dry running capabilities also allow the presence of gases. Compact design and special screw profiles allow high ∆p for operation in pipelines with long distances.

Product Application:

Multiphase & crude oil transport, thermal operations, wet gas compression, oil & chemical storage.

Marine

YuanDong Twin Screw Pumps have proven their value internationally as loading and transfer pumps on tankers, transfer pumps for heavy-duty HFO qualities and as lubri-cating pumps for main engine supply.

Product Application:

Bitumen, tar, light and heavy fuel oil, crude oil, mazut, chemicals & storage water.

Petrochemical Industry / Refinery

YuanDong Twin Screw Pumps transport low & high viscous products within terminals & refineries. All kinds of fluids, neutral, alkaline or acid and aggressive, abrasive or gaseous, are primed up safely, metered and pumped.

Product Application:

Mazut, bitumen, tar, heavy fuel, naphtha and chemical product.

Chemical & General Industry

Regardless of low or high viscosity, aggressive, solid or shear-sensitive – twin screw pumps from Bornemann are used in any kind of chemical process. All YuanDong pumps are self-priming and ATEX-compliant.

Product Application:

Polymers, paints, slurry, pastes, liquid sulfur, and process chemicals